2010 M. Chapoutier Tavel Beaurevoir
Tasting Notes:
Eyes: clear, pale salmon
Nose: clean, med- intensity, light red berry aromas, white pepper, earthy/woodiness
Mouth: dry, med bodied, light tannins, med acidity, short length
All in all: Acceptable to good quality, drink now
Some people at work really liked this. I was excited to try it (and even put it back on the shelf a couple of times, trying to balance the skepticism and the desire), but it didn't do much for me.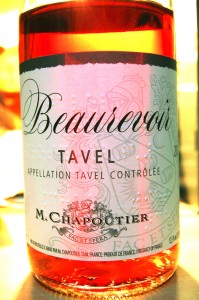 Although decently balanced in terms of structure – and I'll give it that much – there was something on the flavours of this wine that happened to strike both my "odd" and "boring" cards. The lightness of the red fruit disappointed me (although perhaps more typical for old world rosés?), and it wouldn't be so bad if it weren't for the strange peppery and woody notes I got on the nose. I also got this slightly unbalanced metallic tartness on the palate which normally wouldn't bother me as much, but when combined with the weird nose, I decided that the best thing about this wine might just be the pretty colour. Save your money for something more exciting.
I really hope this isn't just because I don't like rosés: I hope to try this again some day and rate this wine again.
(And to think I used "YOLO" as a deciding factor in buying this wine. Shame on me.)
Producer: M. Chapoutier
Designation: Beaurevoir
Region: France
Sub-Region: Tavel, Rhône
Variety: Grenache
ABV: 13.5%
Vintage: 2010
Tasted: May 6, 2012
Price: $29 (Liberty), $30 (Everything Wine)