2010 d'Arenberg "The Hermit Crab" Viognier Marsanne
Tasting Notes:
Eyes: clear, med lemon-green
Nose: clean, med intensity, floral, melon (honeydew), tropical fruit, notes of honey, flintiness, and lime
Mouth: dry, med+ body, low to med- acidity, med length
All in all: Good quality, drink now
My goodness. What a night of work. Technical difficulties all around. Thank goodness wine exists. Blind tasting time!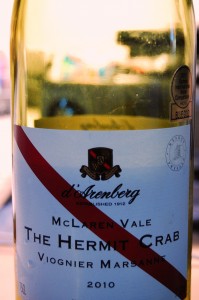 We started off with a white wine. I was honestly in this sweet and refreshing mood (perhaps a beer mood? Brachetto/Moscato/fruit ale mood?) so it was both a bittersweet moment when I tasted this fruity and floral wine with lower acid. I instantly guessed a hot climate new world wine, although I pegged Australia on the third guess. This wine had a lot of body to it – a really weighty and thick character. I guessed a Chardonnay, which my colleague understood, but was wrong. Another analysis of the floral nose had me guessing Viognier in no time (majority of the blend) (and later I was all – "well duh, of COURSE this is Viognier, how could I be so stupid?"),  but it was the other grape took me a while to guess. I'm not amazingly familiar with Marsanne, but I think it was this grape that contributed to the interesting Chardonnay-like mouthfeel and body. The wine almost borders on flabby, but has a nice complexity on the palate and nose to sort of carry itself.
Anyways, this is quite a nice blend with a decent amount of complexity. I'm a big fan of Viognier's floral nose, and this is a beautifully aromatic wine, although there are some Viognier wines of better value out there.
Producer: d'Arenberg
Designation: The Hermit Crab
Region: Australia
Sub-Region: McLaren Vale
Variety: Viognier, Marsanne
ABV: 13.1%
Vintage: 2010
Tasted: May 4, 2012
Price: $27 (Liberty), $27 (Firefly)