2008 Cave de Lugny Crémant de Bourgogne
Tasting notes:
Eyes: clear, med lemon, froth upon pouring but few bubbles in glass
Nose: clean, med- intensity, citrus, green apple, flint, slight autolytic (or none) – hard to pinpoint
Mouth: dry, persistent bubbles, med- body, high acidity, med+ length
All in all: Good quality; drink now.
So, I recently started a new job (and who knows when this post will be posted?), and I decided to celebrate that and the end of a mediocre exam period with some Crémant! I don't recall ever trying one (let alone a vintage Champagne-style bubbly) so I thought I'd give it a go.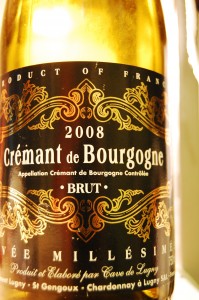 Basic stuff at first. Medium lemon, obvious froth upon pouring. I was disappointed in the fact that I detected little to no autolytic notes, though. All I got on the restrained nose was some flinty green and citrus fruits. What swayed my slight disappointment were the persistent creamy bubbles, adding body to a wine that would otherwise be boring. The acid was lively, and the length was good. I'd be interested to see what age would do to this wine, although I feel like it doesn't even have enough oomph to begin with – to develop.
All in all, this was a wine of questionable value that was, however, a great example of that mousse-y quality that a lot of cheap bubblys don't have. The rosé of the same producer is getting a lot of buzz at the place I'm working at, so I'm looking forward to snagging myself a bottle of that when I get the chance. At 30 dollars, the value of the wine is questionable – we seem to be getting a decent amount of feedback from the rosé which is a couple bucks cheaper.
Producer: Cave de Lugny
Designation: N/A
Region: France
Sub-Region: Burgundy
Variety: Chardonnay, Pinot Noir
ABV: 11.5%
Vintage: 2008
Tasted: April 18, 2012
Price: $30 (Liberty), $27 (Everything Wine)